H&M
At the beginning of spring I bought this rather eccentric coat at H&M. It's not something I would usually buy as it's quite special. You either love it or hate it. Some people don't get this coat… especially men are not that wild of this coat (it might be the storks…) but frankly I couldn't care less. The fact that it was at a 50% discount persuaded me to make the purchase though ! Read more about this outfit!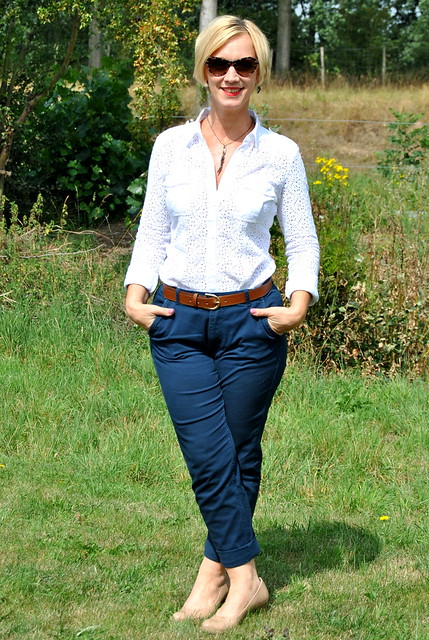 I bought these blue chino pants, that take the lead roll in this outfit, at H&M in April… or was it already May ? They were not expensive at all, but I think they look great ! They're really comfortable. So perfect for a trip along the D-day beaches a couple of months ago (as you can see in this post). I wore my chino pants casually with my Marcel tanktop and my sneakers… oh… what good times we had in beautiful Normandy ! It seems so long ago already ! Wish we could go back… Read more about this outfit!
I don't like the H&M sales as it tends to be too crowded and messy in the stores. Just before the start of the sales though (at the end of June mind you… I didn't go shopping now as I am on my 50-day-challenge !!), they do reduced prices on some articles. The only condition is that you've got to buy at least two reduced articles… no problem for me there ! So about a week before the actual sales start, I'm off to H&M to see if I can find some bargains.
During the summer sales, I always try and buy things that I can still wear on colder summer days and in the autumn. We don't have an extremely long summer season, so I usually don't buy that many really summery stuff. This time I bought a soft pink midi skirt. Read more about this outfit!