About 10 days ago I had the opportunity to visit the first 'Atelier Rebul' here in Belgium and I must say that it was a pleasant encounter.
Atelier Rebul… never heard of?? Don't worry… I didn't either until recently 🙂 If you want to find out more about this beauty brand, you better read on!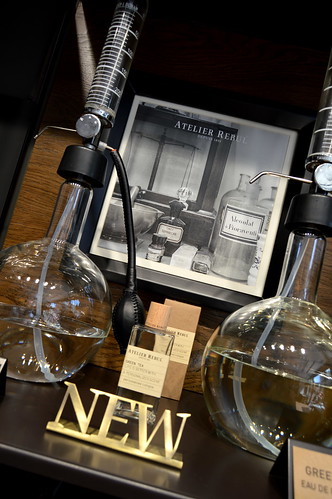 Atelier Rebul has its origin in France. The brand has been an expert in fragrances and skincare for more than 120 years and it combines pharmaceutical knowledge with Arabian essential oils resulting in some top products!
All products are natural and don't contain parabens so even the most sensitive skins can use them.
Atelier Rebul is opening shops across Europe, the shop in Hasselt being the first one in Belgium. Soon Ghent followed and the coming months shops in Luik, Leuven, Brugge, Charleroi and Antwerp will open their doors to welcome beauty addicts.
What products does Atelier Rebul have on offer?
Beauty products:

hand creams
body creams
shower gels
shampoos and conditioners
soap
serums
toners
…

Products for your home:

scented candles
room sticks

Fragrances:

eau de parfum
eau de cologne
What did I buy?
When I was in the shop in Hasselt, I couldn't resist buying an eau de parfum. Atelier Rebul has 2 types of eau de parfum: Pera and Istanbul. As I instantly fell in love with the latter, I bought it 🙂
Here's what I think about the eau de parfum Istanbul:
Both eau de parfums come with an entire range of products so you can indulge yourself in the smell.
Both of them are unisex.
The bottle comes with this glamourous puff spray (is that what it is called???) and although this looks very luxurious, elegant and posh, I prefer the ordinary spray which is also in the package.
The scent is incredible… spicy, with a hint of flowers. It really is an elegant, luxurious scent!
As a special opening offer, I got a hand cream for free.
Here's what I think about the hand cream:
Comes in several scents, I chose 'rose', which absolutely smells gorgeous!
Very rich cream to pamper your hands!
Doesn't feel greasy on the hands.
Contains shea butter and almond extracts, which really nourishes your hands.
About the shop
The shop itself is very beautiful, a peaceful haven to wander around in. The shop assistants are very friendly and helpful, so if you've got any questions, don't hesitate to ask them!
In Hasselt (and I guess also in the other shops) there is a treatment room for facials. The treatment room is so zen… I bet you feel super relaxed after that facial 🙂
Now I definitely was an instant fan… if you want to find out more about this brand, you can check out their website: Atelier Rebul.
Do you know this brand already? If so, what is your favourite Atelier Rebul product? Let me know in the comments below 🙂
Love, Kathleen
Here you can follow me on Instagram!