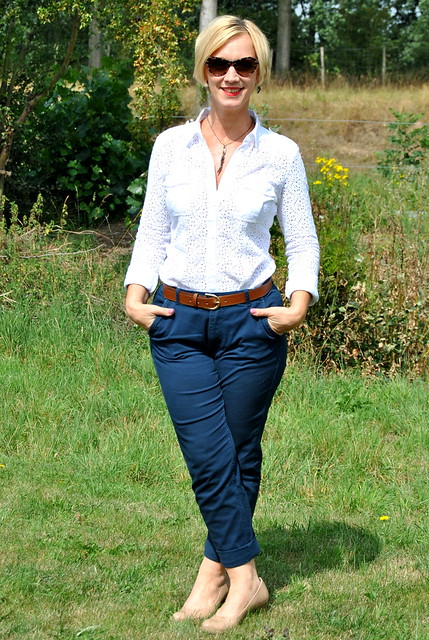 I bought these blue chino pants, that take the lead roll in this outfit, at H&M in April… or was it already May ? They were not expensive at all, but I think they look great ! They're really comfortable. So perfect for a trip along the D-day beaches a couple of months ago (as you can see in this post). I wore my chino pants casually with my Marcel tanktop and my sneakers… oh… what good times we had in beautiful Normandy ! It seems so long ago already ! Wish we could go back…
For this outfit I opted to dress the chino pants up a bit and I chose a combination with my nude Tamaris pumps (they are ever so comfortable !), a lace blouse and a bit of bling from Dyrberg Kern. I bought this necklace with matching earrings several years ago, but I think they still look really nice ! That's the good thing about Dyrberg Kern jewellery… it never ever goes out of style !
The blouse is one of my favorite blouses. It's from IKKS. It has a casual cut, but the off-white lace fabric gives it another twist, don't you think ?
As the mornings start to get a bit chillier, I add my denim blazer (seen in this post), but whilst taking these pictures it was really hot and… well… I actually forgot to put the blazer on. But believe me… it does look nice together !
Now what do you think of these chino pants ? Like or dislike ? To me, they're definitely a winner !
Love, Kathleen
Photography by Elizabeth Kluskens.