Last year in April we visited the Peak District in England. It was a holiday filled with fabulous and stunning trips. I already told you about our visits to Lyme Park and Chatsworth in this post and also about our visit to Tissington. Today I will tell you about the first of three walks we did in this area of outstanding beauty…
I hope that with this post I can convince people that England has so much more to offer than London…We have visited England on so many occassions. We went to the Peak District, the Lake District, Cornwall, Devon, Kent, Sussex,… and I must admit that the beauty of England never disappoints…
Now over to that first walk we did in the Peak… It was a roundtrip from Ashford-in-the-Water towards Monsal Head and back.
In Ashford-in-the-Water it took us a while to find the starting point of the walk, but right at the point we wanted to throw in the towel, we found it. As we are not the experienced hikers, I had found a moderate walk of about 8 km, which I thought would be ok for all of us.
It was a beautiful and quite warm April day and spring was at that time well and truly under its way. The Peak District looked inviting I can tell you that! I will let the pictures speak for themselves…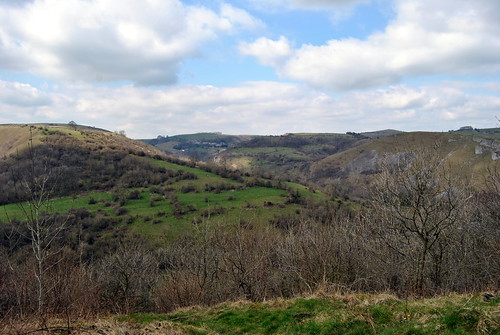 Once we had reached Monsal head (after a bit of a climb… phew!), the views were astonishing… You can see down Monsal Dale and up the Wye valley with the river far below, winding its way through the green landscape.
As we were halfway through our walk, it was time to have a bit of a rest and what better place than Hobb's Café to have a stop! We enjoyed a lovely cream tea before we continued our walk.
I did get my family at my back though as they didn't think this walk was moderate at all… perhaps in Peak-standards, but certainly not in ours! At times it was quite hard to follow our route… steep, slippery,… but we did it and at the end we were really quite proud of our achievement!
Back in Ashford-in-the-Water, the sun was already setting which made it extra beautiful to take pictures of these sandstone houses. Please make sure to scroll all the way down not to miss any of the beautiful pictures!
We did two more walks during our holiday in the Peak District. I will certainly tell more about them in future travelposts!
Love, Kathleen
PS: here you can read about a trip to Brighton!